Overview
This article provides an overview of the best small business grants and financial support for digital transformation in 2023 including eligibility requirements, with links to grant applications. and how to start applying today.
What is Digital Transformation?
Digital transformation refers to adopting and integrating digital technologies, tools, and processes using a strategic approach.
Why Digital Transformation is Important for Small Businesses
Small businesses are at the forefront of this transformation. Businesses must leverage up-and-coming technology to remain competitive.
Some benefits small businesses can experience through digital transformation include:
Operational Efficiency
Improved Customer Experience
Expanding to New Markets
Enhanced Competitiveness
Innovation and Adaptivity
How Small Business Grants Can Help
Small business grants provide financial assistance and resources to implement digital initiatives. The grants cover expenses, including hiring student help, training, consulting, and more.
Guided by small business grants' support, expertise, and resources, success rates of digital transformation projects increase with accelerated implementation.
Canadian Digital Adoption Program (CDAP)
CDAP Overview
The Canadian Digital Adoption Program (CDAP) is a federal government program to help small to medium-sized enterprises (SMEs) embrace new digital technologies. As of late 2023, it is the best tech grant for small businesses in Canada
The program launched in March 2022, and the Canadian government has allocated $4 billion to support this program for this four year initiative.
CDAP offers two funding opportunities, or "streams":
Stream 1: Grow Your Business Online Grant
This is a $2,400 microgrant to reimburse for costs related to web design, SEO, site audits, Google Analytics consulting, Google Ads, social media, databases and more. It covers the fees for hiring a digital marketing agency or consultant to plan and implement digital marketing initiatives.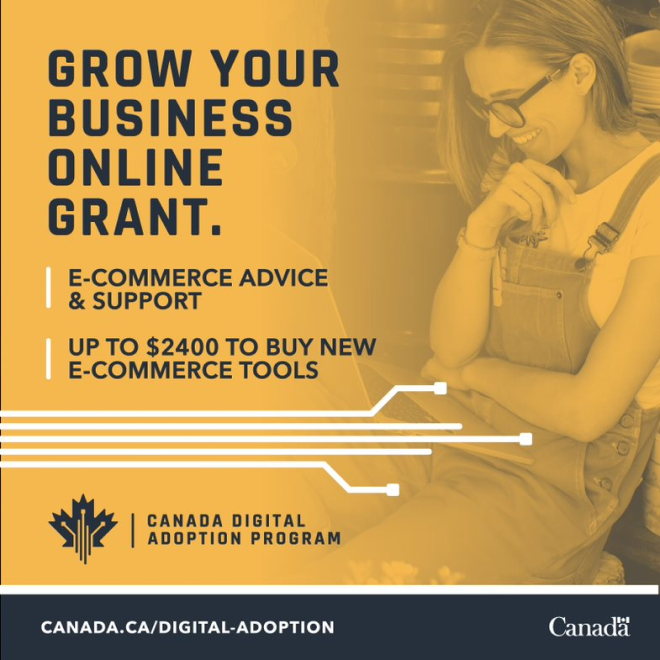 Most businesses qualify for this grant – the primary requirement is $30,000 in annual revenue in one of the past three years.
Here's a step-by-step guide of the CDAP Stream 1 application process for a B.C. business (each province has their own grant administrator).
Stream 2: Boost your Business Technology Grant
Stream 2 includes up to $15,000 to hire an approved CDAP digital advisor to analyze your company's current state to create a detailed strategic plan for your digital transformation.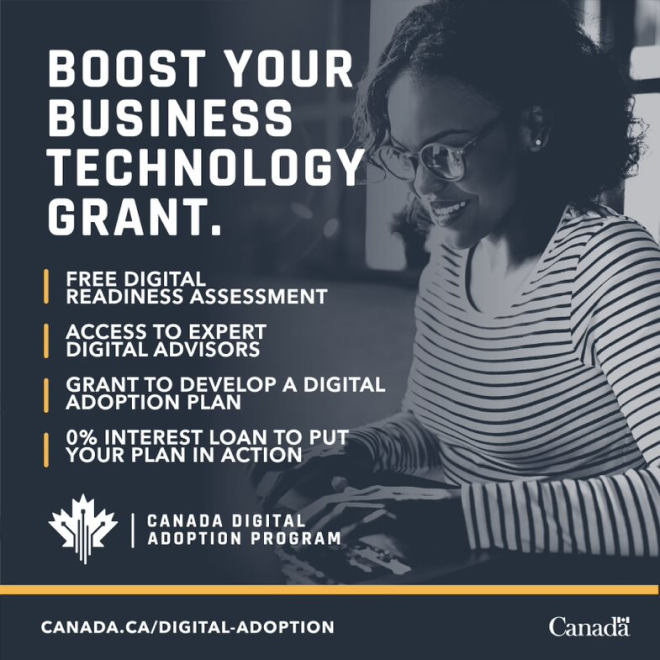 After applying for this grant, a business can qualify for both a:
Interest-Free Loan: Up to $100,000 to implement the plan
Wage Subsidy: $7,300 for a student work placement
Learn more about the eligibility requirements and how to apply for the CDAP grant in our guide. Big Cedar is an official CDAP digital advisor.
Digital Generator Initiative
The Digital Generator is an initiative run by the Canada Council for the Arts to support Canadian arts groups and organizations to transform their digital business model and operations.
Digital Generator offers 2 streams:
Stream 1: Supports for hiring external consultants or experts
This involves an up to $40,000 grant to hire external resources to aid in developing a digital project.
You can hire consultants, experts, or trainers to train your organization, identify digital gaps, create a plan leveraging digital opportunities, increase the digital skills of your staff, and conduct research and planning for creating digital resources.
Stream 2: Supports implementing recommendations from external consultants or experts
After receiving a digital assessment, audit or plan outlining your digital transformation, the second stream aims at implementing the tools, solutions, and strategies.
Stream 2 includes:
up to $50,000 grant for projects that benefit a single group or organization
up to $100,000 grant for collaborative projects that benefit multiple groups or organizations
Hiring Grants & Other Funding
Government Grants & Financing
CanExport: Enhances an SME's international reach through financial support, offering $50,000-$70,000 in funding. It assists companies in developing and executing export marketing projects, fostering global growth and market diversification.
Business Development Bank of Canada (BDC): Offers various grants and financing options specifically designed for entrepreneurs and SMBs in different sectors.
This includes specific grants for:
Canada Small Business Financing Program: A government initiative providing financial assistance to small businesses, enabling them to secure loans for purchasing or improving assets.
Student Work Placement Programs
Magnet Student Work Placement: Connects small businesses with skilled student talent, fostering digital development through web development and marketing expertise.
Information Technology Association Of Canada – Career Ready Program (ITAC): Equips businesses with skilled individuals prepared for careers in digital technology. It's a valuable resource for companies seeking specialized talent in the IT sector.
WIL-Digital Information & Communication Technology Council (ICTC): Focuses on empowering businesses with digital and ICT-related skills. It's designed to enhance organizations' digital capabilities, making them more competitive in the digital landscape.
Venture For Canada – Internship Program: Connects ambitious young talent with startups and small businesses. It's an excellent opportunity for businesses to bring fresh perspectives and skills, especially in digital marketing and technology.
Wilworks: A platform that bridges the gap between businesses and skilled digital professionals. It provides access to a pool of talented individuals proficient in various digital fields, supporting businesses in their digital initiatives.
Talent Opportunities Program (TOP): Focuses on nurturing talent and providing businesses with skilled professionals. It's particularly valuable for companies aiming to strengthen their digital marketing and technology teams.
Technation: Career Ready: Prepares students and recent graduates for careers in technology-related fields. Businesses can benefit from this program by tapping into a pool of emerging talent skilled in digital technologies.
Canada Summer Jobs Program: Provides wage subsidies to employers, enabling them to hire students during the summer months.
Career Launcher Internship: Empowering businesses with interns skilled in digital marketing and web development, accelerating your online strategies.
Other Post-Secondary Opportunities: Many post-secondary institutions provide students with an opportunity to intern at local businesses to gain business experience. One example is Douglas College's Business Internship Program that lets you hire a student for one semester in exchange for work experience.
Skills Development and Talent Programs
ISI Grant Innovator Skills Initiative: Cultivates digital skills in your workforce, ensuring your team is equipped with cutting-edge digital marketing and web development techniques.
EDGE UP eTalent Canada by ICTC: Focuses on enhancing digital skills and talent, offering training to individuals and providing businesses with access to skilled professionals in various digital areas.
Technology and Innovation Programs
Tech Co-op Grants Program: Provides financial support to businesses hiring co-op students in technology-related fields, fostering industry-academic collaboration and skill development.
Mitacs: A non-profit organization promoting research-based innovation in Canada by connecting businesses with academic institutions and students.
Conclusion
Embracing the digital transformation journey will not only strengthen your business but will also contribute to the global transition to digital business.
By leveraging these programs and small business grants, your business can position itself as a pioneer in your field, ensuring a competitive stance in the ever-evolving digital marketplace.
Book a Consultation
Interested in transforming your business to grow your business? Book a free consultation with Big Cedar to discuss how we can tailor these grants and programs to fuel your specific digital marketing and business technology needs. Big Cedar is a certified digital advisor for the CDAP grant.